Profile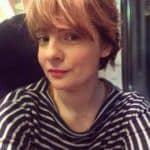 Alice Jones Bartoli
Totally over-excited
Curriculum Vitae
Education

Cheadle Hulme School (1992-1997), Ridge Danyers College, Cheadle (1997-1999)

Qualifications

University of Cardiff (1999-2003): BSc Applied Psychology and Kings College London (2005-2008): PhD in Psychology

Work History

Great Ormond Street Hospital (2003-2005): Assistant Clinical Psychologist, working in clinic for social communication disorders (e.g. autism); Kings College London (2005-2007): Researcher on brain imaging study of children with 'psychopathic' traits; UCL (2007-2009): Researcher looking at children with autism in education

Current Job

Director of Unit for School and Family Studies

Employer

Goldsmiths, University of London
My Work: Investigating why some children develop serious behaviour problems, and what interventions and treatments work best

My Typical Day: I could be working in schools, giving a lecture, supervising my own students, doing interviews for new students, or sitting quietly with a lot of data and a computer.

My Interview

How would you describe yourself in 3 words?

overgrown indie kid

What was your favourite subject at school?

English Lit

What did you want to be after you left school?

I wanted to be a journalist. I only discovered Psychology (and science) in sixth form.

Were you ever in trouble at school?

Often… mainly for uniform violations

If you weren't doing this job, what would you choose instead?

I'd like to be a forensic anthropologist.

What is the most fun thing you've done?

Travelled from a conference on Psychopaths in Montreal in Canada to New York by train. It took 12 hours, and it was great.

Tell us a joke.

How many Psychologists does it take to change a lightbulb? None, the bulb just has to really *want* to change.